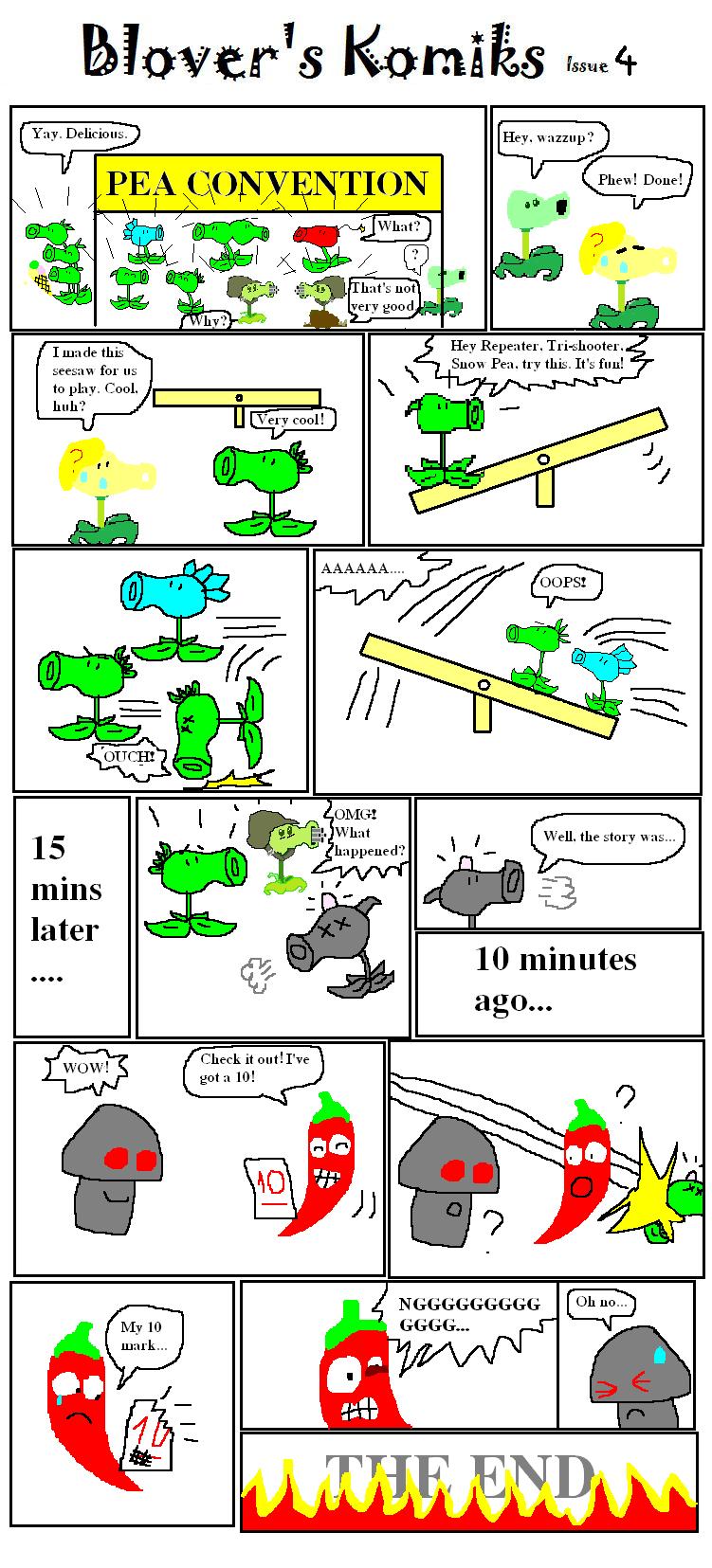 Issue 4: Devil Seesaw is the fourth issue of Blover's Komiks and part of
Season One
.
Settings
Pea-Con
Plantville Park (the place where Multi-shooter built the seesaw)
Characters
Major
Minor
Cameo
Mentioned
None
Plot

Spoiler warning!
This article contains plot details about this comic. Read at your own risk!
In Issue 4: Devil Seesaw, Snow Pea, Repeater, Gatling Pea, Weed Gatling Pea, Split Pea, Tri-shooter, Nuke Pea, Threepeater, Multi-shooter, and Peashooter are at Pea-Con. Nuke Pea wanders off and finds Multi-shooter sweating. Multi-shooter shows Nuke Pea a yellow seesaw that he built himself. Peashooter gets on the seesaw and finds it fun, so he calls over Repeater, Tri-shooter, and Snow Pea. They rush to the seesaw, but Tri-shooter trips. Repeater and Snow Pea don't notice and jump onto the seesaw, sending Peashooter flying into the air.
Fifteen minutes later, Peashooter lands with a huge bump on his head and a charred exterior. Gatling Pea asks him what happened, and Peashooter tells him the whole story.
Ten minutes ago, Doom-shroom and Jalapeno are talking about Jalapeno's ten mark. Jalapeno happily waves it in the air, but Peashooter falls out of the sky and through Jalapeno's ten mark. Jalapeno becomes very angry and explodes, sending Peashooter, now heavily burned and with a large bump on his head, back into the air.
Trivia
None