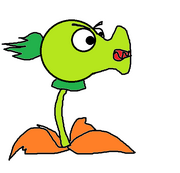 Bully Pea is a bully, as the name implies. He is such a naughty peashooter who can't stop bullying others. Threepea-Pult had reminded him a million times (literaly) to stop the bullying, especially the cute and young cabbage-pult.
Backstory
Edit
It was once that Little Pea had graduated from the grade school. A weird wind had slapped him, putting a curse. After graduation, they had a car accident, leaving his tough dad to raise him. Ever since this, he always took aim on cute and innocent ones, because a his cute classmate was the suspect. Melon , Kernel , Plantifier and Cob do anything to make Bully Pea leave cabbage alone. Ever since he started bullying, he was known to be Bully Pea.
Personality
Edit
Little Pea was smart, as once he became one of the honorable mentions in graduation. he was at average in cuteness, not too ugly nor an infatuating look. When he changed, we was too fussy about the stuff he wore, and fear no-one, even Threepea-Pult, the school's principal.
Bully Pea gels his back leaf, similar to guys who style their hair for a cool look.

But that gel was invented by Kernel for Cabbage, to look cool in their party.

Melon found out that Gatling pea was even weaker than him, despite that he's a peashooter.
He is resistant to Explosive.
Plantifier made him cry by just tripping him.