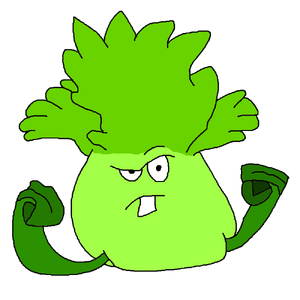 Bonk Choy is a PvZ2 plant and
Bloomerang's
boyfriend. He first appears in the comic I Miss You!
Gender: Male
Age: 14
Friends: Bloomerang, Coconut Cannon, Wall-nut
Enemies: Iceberg Lettuce, all zombies, the Zombies are our Friends Club
Bonk Choy likes to practice hitting with Wall-nut. Wall-nut doesn't mind and considers it a relaxing back rub.
Bonk Choy began hitting stuff in middle school, where he was nicknamed Bonky and Smasher by his friends.